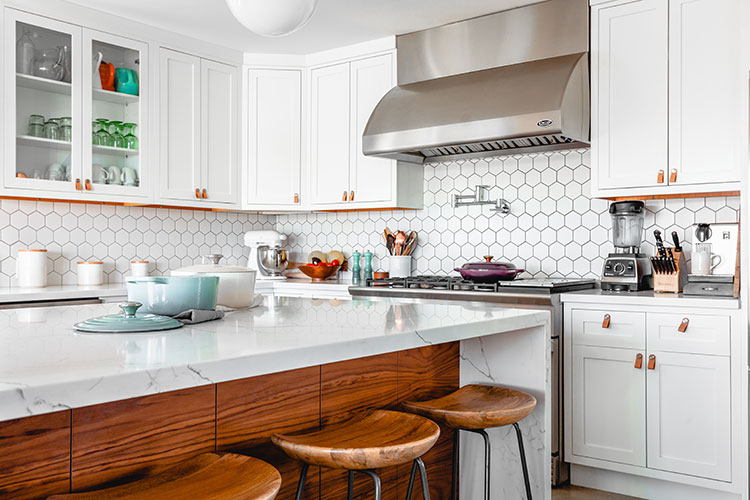 To increase the value of your home.
Whether you're looking to stay in your home for a few more years or through retirement, remodeling your kitchen is a smart way to invest in your home. The key to a successful kitchen renovation is doing your due diligence and starting with a thorough design plan. Another important ingredient is choosing an experienced, qualified home remodeller to work with, like Northern Living Kitchen and Bath to can help you through the design and construction process. You purchased a fixer-upper, with a bad kitchen, in a great neighbourhood.
Are you going to tear down the walls, re-wire and gut the house? Whatever it may be, before any renovation project make sure that your home can withstand this structural change. Don't be afraid to seek professional assistance, it can make or break your kitchen.
Take advantage of the latest materials and appliances.
The home design market is filled with new, luxury materials and functional innovations like SMART Kitchens that'll transform your kitchen into your new favourite room in the house.
To better accommodate your family.
The kitchen layout may have worked great for the previous homeowner, but not for you. Perhaps it lacks a breakfast bar, and your family wants to gather informally in the kitchen to enjoy coffee or grab a quick meal without going to the dining room table. Whatever the reason, one motivation for a kitchen remodel is to arrange the room to best suit your family's needs.
To accommodate a disability or aging in place.
It's sometimes necessary to remodel the kitchen to better accommodate the needs of disabled family members. For example, if someone in the family is in a wheelchair or no longer able to reach high cupboards, a remodel can make the room more usable.
Deterioration.
The kitchen can easily be falling apart. Broken tiles, countertops peeling, broken cabinets or missing doors and obsolete appliances does not inspire the gourmet cooking or family celebrations. The deteriorated kitchen simply becomes obsolete and needs a remodel. From ceiling to floors, deterioration can become a huge job, so get a professional to provide insight before you begin.
Increased Energy Efficiency.
By taking energy consumption into account, you can remodel your kitchen to become not only more comfortable, but also help to lower energy costs. Start with energy-efficient appliances (i.e., refrigerators, stoves, dishwashers and microwaves). With an Energy Star certified fridge you can maximize your energy and dollar savings without sacrificing the features you want. And, EnergyStar-approved dishwashers are on average 12 percent more energy-efficient and 30 percent more water-efficient than standard models.
To increase storage space, and make your kitchen more functional.
Think outside the box. Can that window double as a counter? Can you add a shelf over there? Are there new innovations in the pantry game and can it fit? Let's get a professional renovation artist to come in and see the big picture. You need new appliances and the latest models do not fit. Your family has grown and it's time to get a bigger fridge. But how are you going to replace that 32" top freezer with a new 36" Stainless Steel French Door Fridge? Your best bet is to ask a professional. Try contacting the team at Northern Living Kitchen and Bath to come measure and remodel.
Selling your home, and kitchen is not up to par with similarly priced properties.
Homeowners often remodel their kitchens to increase the value or marketability of a property. A remodeled and attractive kitchen will appeal to prospective home buyers more than a boring and outdated one. Realtors have known this fact for years. That's one reason why a remodeled kitchen or bath is frequently cited as a home's major feature in a real estate ad. This increases your chances of your house selling quickly at an optimum price, all the while enjoying your updated home in the meantime.